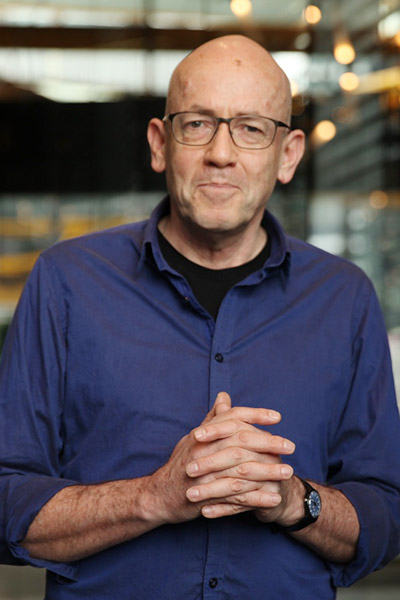 Thanks for visiting. This is a good place to find out a bit more about me and my books.
If you're here for the books, whiz down to the bottom of the page. All my books are there, scrubbed up and looking their best. You can read or listen to the first chapters and check out all the behind the scenes gossip.
If you're here for news or information, take it more slowly because there's a fair bit on the way down. You'll find details about booking me for a school visit or festival, a link to my biography, a signpost to teachers' notes, and a few other things every good website should have (such as an apology from me for not posting on Facebook for 15 months).
First though, I'd like to share with you my very latest and/or fairly recent news.
Australian Children's Laureate
A great honour has come my way, which brings with it the opportunity to do some things I've been wanting to do for a long time. So I'm very excited and grateful to have been invited to be the Australian Children's Laureate for 2018 and 2019.
What's a laureate? I had a go at explaining it recently in an article I wrote for the Australian children's literature magazine, Magpies. Here's how that piece starts:
'Your mission, Morris,' said Ron Gorman, chair of the Australian Children's Literature Alliance, 'if you choose to accept it, is to don the mantle of Australian Children's Laureate for the next two years and go into bat for stories.'
I stared at him, intrigued, excited, but completely ignorant when it came to sporting metaphors.
'By go into bat,' I said, 'do you mean roam the land engaging young readers in a celebration of stories and all the precious things they get from them while at the same time encouraging adults to think more deeply and perceptively about the transformative qualities of good stories for young people and if possible read a few of them aloud?'
'Yes,' said Ron.
I was in.

If you'd like to read the rest of the Magpies article, I'm sure the editors of that fine journal won't mind if you do so here.
Ron wasn't exaggerating about roaming the land. I'm going to be out and about all over Australia during the next couple of years. Chances are I'll be down your way at some stage. If you want to keep an eye on where I'll be and when, visit the Australian Children's Laureate website.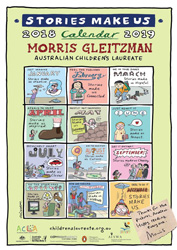 With brilliant illustrator Andrew Weldon I've put together a poster covering the various themes and ideas I'll be talking about on my travels as laureate. You'll almost certainly see the poster at school or in your local library. Each month on the laureate website I'll talk a bit more about those ideas and there'll be stuff for teachers to use in class, plus reading lists and all sorts of other things for keen readers, their friends and pets.
Hope to see you on my travels, or at least on the site. If you don't live in Australia, fear not. International travel is part of the laureate's job description. I can't promise I'll get everywhere, so it would maximise our chances of meeting if you could make your way to a major population centre. Terminal Five at Heathrow for example.
Oh, and just to let you know, while the Laureateship is a big honour, no bowing or curtseying is necessary. Apart from the ones I always do to librarians.
Other News
I'm delighted to announce the publication of my new book – Help Around The House. Just in Australia and New Zealand for now, but elsewhere later.
It's the story of a boy who goes to live in Canberra and offers his help to Australia's Members of Parliament. Ludo can see how busy they all are and wants to help them organise their time a bit better – less squabbling, less calling people names, less ganging up on each other, more helping make Australia and the world a better place.
Do they accept his kind offer? It wouldn't be a story if there weren't obstacles, problems and challenges for the main character to wrestle with, including the mistaken view of some people that kids aren't worth listening to.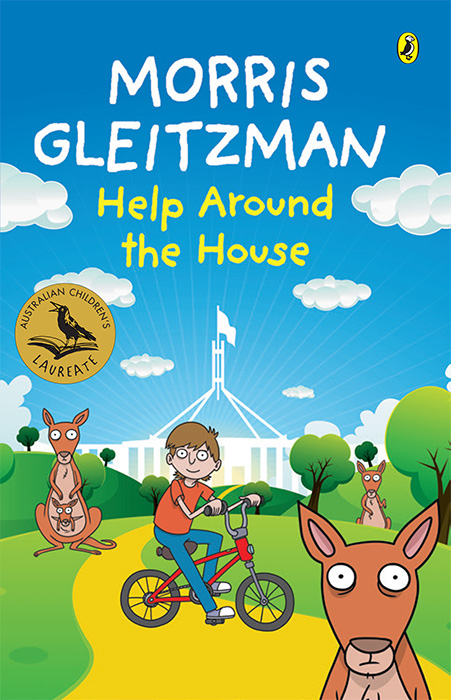 I like writing characters who are determined and optimistic, and Ludo's no exception. So he'll be giving those MPs a hand whether they like it or not.
To find out more about Help Around The House and read the first chapter, make website-appropriate contact with the book cover adjacent to this sentence.
I'm also delighted to announce the publication of another new book – a bumper collection of all my short stories, including a new one.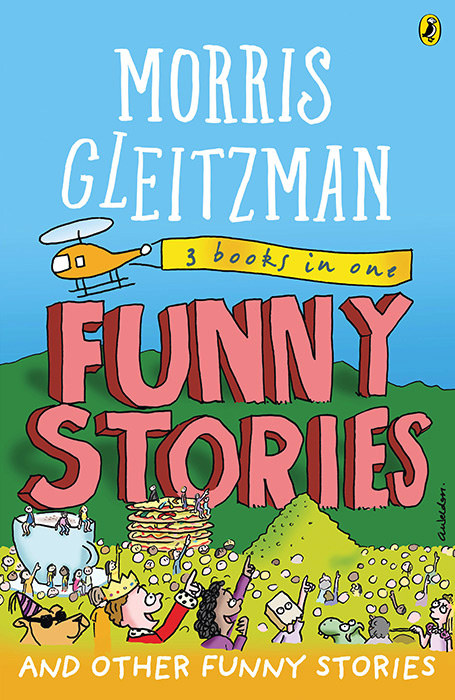 The new story is called Funny Stories, a title I chose specifically so the collection could be called Funny Stories And Other Funny Stories. I know, sometimes authors should put their heads in the fridge for a while. Still, if you like lots of chuckles inside the one set of covers, and you're sure your arms are strong enough to lift 559 pages, might be an idea to let Santa know about it.
To find out more about Funny Stories And Other Funny Stories, and to read a bit, make website-appropriate ... you know the rest.
Now that Help Around The House and Funny Stories Etc are published, I can start planning my next book, which will be the final story in the Once series. It'll be called Always, and I have a feeling Felix will get to do a few things that he'll regard as some of his most important experiences yet. Can't say more at this stage because it's early days, but I'm having some exciting ideas.
School Visits
I visit as many schools as I can each year. Bookings are organised by the following capable and nice-to-contact agencies:
The Children's Bookshop Speakers' Agency
for school visits in New South Wales, the ACT and Queensland.
Phone: 0407 414 261 or 02 9481 8811
Email: staff@thechildrensbookshop.com.au
Booked Out Agency
for school visits in Victoria and the rest of Australia.
Phone: 03 9824 0177
Fax: 03 9824 0677
Mail: PO Box 580, South Yarra, VIC 3141
Email: bookings@bookedout.com.au
If your school is in the UK, my school and festival visits there are looked after by
Authors Aloud UK
Phone: +44 (0)797 608 2049
Email: info@authorsalouduk.co.uk
All these lovely agencies will happily give you any information you need about fees, expenses, which colour Smarties in the dressing room, etc. Festival enquiries will be warmly responded to as well.
If your school is outside Australia and the UK, please don't be deterred. I've visited schools in many other countries. To start with, best to contact me direct via morris@morrisgleitzman.com because there'll be a few important things to discuss like airfares and who's going to pay them and travel shots and whether you're prepared to have them for me.
Biographies
Please feel free to use these for all legal and nice purposes. There's a full-length one and a short one for schools with small notice boards.
Morris Spills The Beans
Authors are asked a lot of questions (if they're lucky), but not everyone can be there to hear the answers. Just in case you and I never get to have a cup of tea together, here are some of the questions I thought you might have asked.
Letters to Governments
Sometimes we have questions we want to ask the Federal government, but they won't have a cup of tea with us so we have to write them a letter.
Teachers' Notes
These expertly-prepared teaching aids are a boon for busy hard-working teachers. They're pretty useful for lazy ones too. And please, individual readers with enquiring minds (is there any other kind?), feel free to make use of them as well. Absolutely no formal educational qualifications or a mug with your name on it required.
Penguin Random House are currently revamping the Teachers section of their website, where readers' notes for most of my books will live. Some are there already, with more to follow. For now, this link will take you to their Teachers' Notes page. A bit of scrolling will be necessary to find the Notes for my books.
And here we are, at that literary patchwork-quilt of delight that is my book covers. A click or tap on any one will take you to a page attractively decked out with my thoughts about that book – why I wrote it, how I wrote it, what it may or may not really be about, etc.
From each book page, another click or tap will allow you to read the first chapter of the book, and, if you like, hear me read it. (That last bit can be switched off if you prefer the sound of your own voice.)
Happy travels.
(Website experts tell me it's always best to give important bits of information twice, the second time ideally in blue.)